The start of a new year often brings with it new opportunities to accomplish old or new goals, not to mention an overall "can do" state of mind.
In fact, throughout the first month of the new year, the phrase "goal setting" is often heavily utilised among both individuals and organisations, as different groups set plans in place to "get their lives on track".
Despite this, more often than not, two weeks into a new year and many persons must generally come to terms with the fact that they have already fallen short on the goals they have set for themselves -a result of setting unrealistic or immeasurable goals.
To combat this, Our Today will share how setting S.M.A.R.T goals can assist in achieving your new year goals.
What are SMART Goals?
The phrase 'SMART Goals' is a technique utilised worldwide for assisting in the definition, description and measurability of setting and achieving goals.
What does SMART stand for?
SMART is an acronym that stands for the following:
Specific
Measurable
Achievable
Realistic
Time Based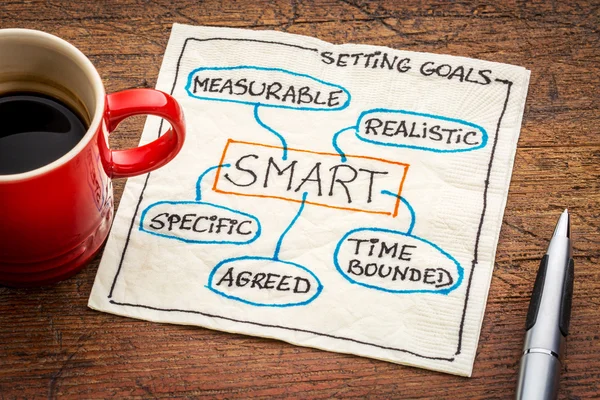 How to make SMART Goals
Taking into account the meaning behind the acronym S.M.A.R.T., when setting your new year goals consider the following:
Each goal you set must be SPECIFIC.
The process of defining your specific goal will help you to focus on exactly what you want to achieve and why. For example, "I want to read two books a month to achieve my goal of reading 24 books for the year".
2. For every goal you set, ensure it is MEASURABLE
By setting a measurable goal, it means that the goal is defined in a way where the progress of the goal's achievement can be tracked.
Using the earlier example, the goal of reading 24 books by the end of the year can be measured based on the number of books read each month or at the end of the year.
3. The goal needs to be ACHIEVABLE
When setting your goals, it is important to consider what actions will see you pushing your limits while similarly still remaining within reach.
If in the past reading one book a month was a struggle, then setting a goal to read five books a month may not be an achievable goal.
4. Make your goals REALISTIC
Be honest about any foreseeable limitations that could affect your ability to achieve your goals, then set your goals accordingly.
5. Every goal needs a TIME-BASED deadline
One way of ensuring that you achieve your goals is by assigning each goal a realistic deadline. This will help to motivate you and give you a sense of urgency in working towards the completion of your goal.